Transcending the Matrix of the Imposter Gods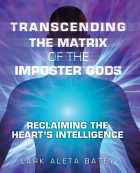 The Heart's abilities and power are the new frontier of spiritual exploration in humanities' search for self-understanding.
This book offers leading-edge information about the Models of Existence which provides a significant contribution to the body of work about the Power of the Heart.
Beginning with an origin myth rooted in ancient history drawn from the works of Sitchin and others and expanded upon with recently revealed revelations from the WingMakers Materials, we learn a little-known story of imposter gods that initially created humanity as slave labor. Through a synthesis of myth, history, psychology, science, religion, and social issues, a picture emerges illustrating how the world of separation and oppression has been maintained to deceive humanity. Heart-centered archetypes are introduced to equip humanity with the tools necessary to transcend the programming of the imposter gods and contribute to an appreciation of why this is so important. A Source-Centered model of existence is offered to assist in our transformation.